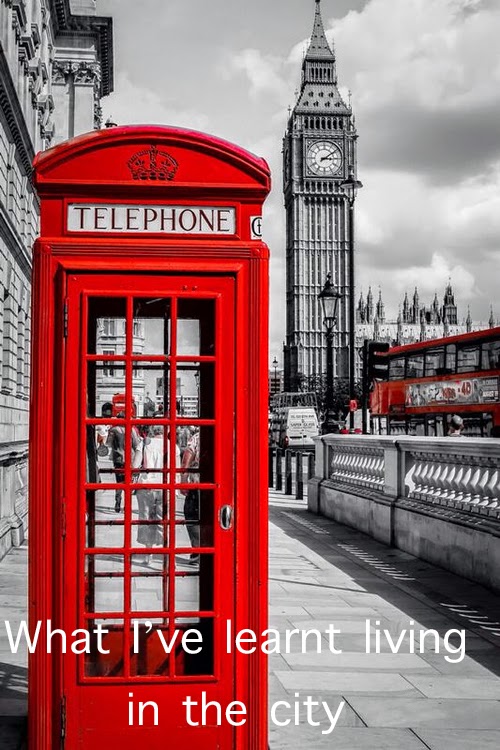 0 privacy
1 h is the average time spent traveling to work
2 hours in traffic
3 times at most you will run into people you know (move to the city to avoid people … not happening)
4 Starbucks in one street
5 hours sleep if you are lucky
6 out of the 7 days it is likely to rain
7 days in a week … 7 food shopping or 1 big online shopping (online shopping has taken over my life)
8 times a day an hour you will want to punch someone for pushing you on the pavement
9 is the number of times you will be woken by the sound of the tube and sirens
10 times dirtier face (is it just me or my face feel a lot more oily?) are there any face product for people living in the city with more pollution than fresh air?
Some of the things you learn living in the city including bring your water everywhere with a 40 degrees underground …
I have always wanted to live in a big city (NYC ideally but London will do) I have been loving it ever since we moved to London. There are days however where everything drives me insane, not even big things but mainly little dumb things. People not lining up the right way in Starbucks you know what I mean people literally jumping in front of you 'well hello dude we are all in a rush today'. The tube not running normally … waiting 30 min on the platform just so that someone tells you the train will NEVER come …
Also have you heard that Oxford street is the most polluted street in the world? yurk … I am not a big fan of this street anyway let's be honest one other thing I have learnt is to answer 'no' to people saying 'I bet now you live in the capital you shop all around the big streets' … hmmmmm no it's too crowded too crazy too smelly too stressful too tiring too many people walking of my feet and well too much pollution … I love the crowd to get me wrong but shopping online? come on this has got to be the best thing ever …
So people open your window breathe the fresh air, grab some ice-cream and shop online you card will thank you!
xo S.S
ps: took a little break from writing this to go to Ikea … well after one hour stuck in traffic I gave up … unsuccessful day! I still love you London
[photo from Pinterest (apologies to whoever it belongs to)]