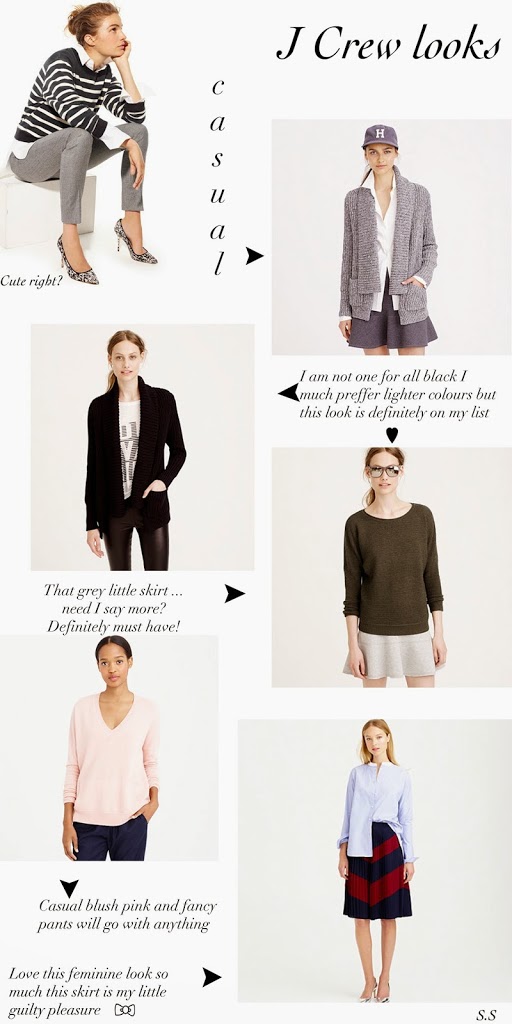 Hey guys hope you are all well, over the last week I have been saving outfits ideas for the upcoming season. I always tend to just buy everything I see but this year I have decided to really make lists and right down what I really need and of course making sure everything can be used more than once … I tend to buy a bright lovely top or cute pair of shoes and I end up not being able to pair my top with sweaters or coats and the shoes well they become somehow ugly and end up at the bottom of my shoe cupboard … no no no this year I am saving outfit looks that I love and making sure they also mix and match and my list is a lot smaller than usual and a lot more duable!
As you know I love J Crew way too much and always love looking how they pair things together and those looks are my favourite … Madewell has some cool ones too and being quite simple you can also find most of those items at cheaper price if you want! Or Ebay … I know sometimes for everyday stuff Ebay is my bff. I tend to buy neutral coloured things like a white sweater or a black roll neck, extra little things that nobody cares whether it is the new J Crew collection or whether it was the last year's one!
I will also be putting a lot of my clothes on ebay in the next few weeks so I will post a link on here and all social platform so if anyone feel like having a look don't hesitate!
xo S.S