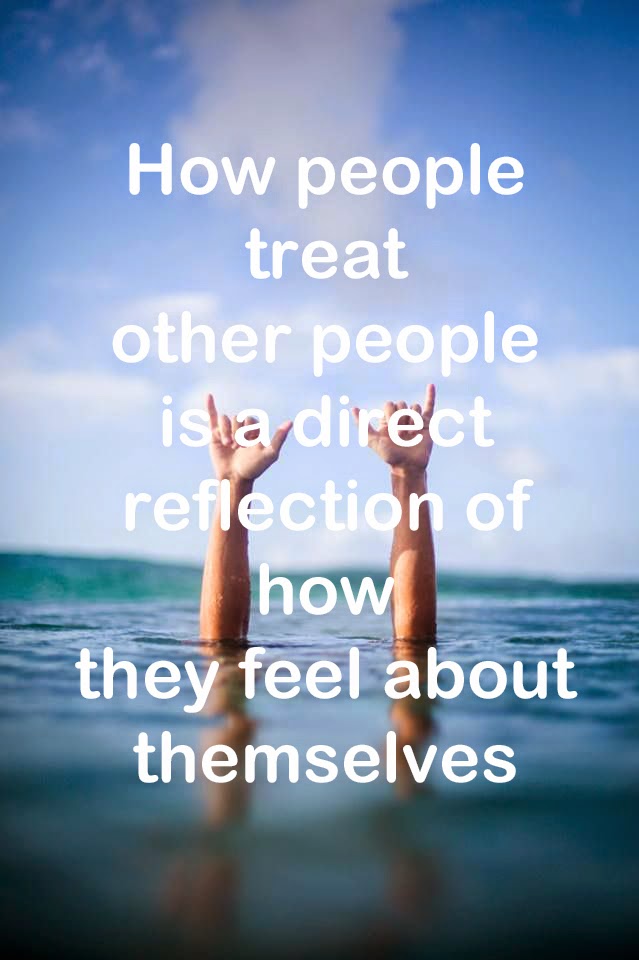 Recently someone thought it was necessary to criticise my lifestyle and my choices so I long thought and then realised it was time for me to put things on the table and explain a few things and a few rules …
I have always thought of myself as a lucky little lady, why? I have wonderful and helpful parents who (as some of you may think) are a bit too helpful but lucky for me I am an only child and I very much believe things would have been very different otherwise. My nana only has me (as she herself had an only child: my mother) There is something about this family wanting only wanting one child … I for myself would kill for 4 children (don't tell the hubby he might die)
Anyway not the point of this conversation monologue … I believe my parents have raised me right and taught a lot about life and values, I values my friendships and I am more than grateful for my wonderful upbringing. I had the chance to go on holiday every summer with my family and to go a great school and meet amazing people who then became friends. I am also very lucky to have had parents who saved for me and when I turned 21 I got what was put aside by my very hard working parents. I then continued my life dreaming of living in a foreign country … why not stay in sweet France you may say … well I tend to believe that we always want new things in life … and for me a new country, new culture and new language was my dream … I am lucky to have travelled a lot more than some people but also a lot less than some others. I then met my wonderful and kind husband and that was the start of adulthood … ouch adulthood … that long lasting dream of become my own person, my own dictator … well needless to say we now all know why Peter Pan didn't want to grow up … Life is though when mummy and daddy aren't taking care of all the bills and all the damage to repair in the house …
But damn adulthood is also so amazing, you get to make your own choices, the easy ones and the hard ones and for some lucky ones you get to do it with your other half …
I left France and what I called 'home' when I was only 18 … EIGHTEEN? WTF … Fast forward 6 years and I have moved 9 times … yes yes yes 9 times in 6 years, I have learned a new culture which include drinking beer every friday after work with your boss and colleagues?? Hello do french people drink with their bosses???? I have learnt that Brits consider France and all other european countries 'THE CONTINENT' or 'EUROPE' again … hello you are part of europe as far as I know … I have learnt that brits are rather calm and don't complain and moan as much as french (this is the moment I loose all respect to the only few french friends and family I have for saying this out loud) But french people this is for you : we moan and complain and criticise a little too much sometimes…
Some people will say I hate french people for saying this … Well quick reminder even if I pretend to be british I am french … so I am kinda criticising myself too in this …
Anyhow, I got to work with my husband for a few years while at university (yes lucky me went from one country where most of the studies are almost free to one where it costs a fortune) Great choice S. great choice. I then got even luckier because I marry my best friend …
I have worked for my favourite clothe company (ticked on my bucket list) and then I got to move to London the great and wonderful London … expensive? yes … well any big cities is really.
I have found a passion blogging … blogging what is that superficial thing where all those girls just show off their closet, well it's being creative, it's having your own kind of business, it's have your own website with a .com at the end, it's making wonderful friends over the internet (yes you heard me friend over the internet) I have some of my favourite people through blogging …
Which brings me to this: I love clothes … wow big surprise right? my dad and my mum don't particularly love fashion but they have a slight obsession with reading … you may say they might be more cultured than me for that but hey I do read too! My nana was a stylist, my mother in law is a stylist, my sister in law is a model and those women have inspired me so much in my lifestyle choices. I have many clothes thanks to Ikea for holding all of them in and thanks to England where clothes are cheaper than France!
Someone criticised me the other day for having 'expensive' clothes, I would to remind people that I used to work for J.Crew and therefor had a discount … and that also Ebay is a great friend of mind … and that most of the time if I buy an item I sell one in my wardrobe win win situation right? People see pictures on Facebook, Instagram, Twitter and so on and people think this tells the story of your life … well here some great big news: IT DOES NOT
Pictures are pictures, a dear friend of mine has a wonderful and colourful instagram, most people would dream to see what she sees daily … behind all that she fights for infertility and doesn't get out bed often lately … do people behind a screen know that? not they don't because instead of asking they straight jump to conclusion. My life isn't perfect, nobody has a perfect life, I have a wonderful life and fell very lucky for what my parents do for me and for my husband who is always here for me. Apparently I also go from restaurant to restaurant … well for those who don't know my husband is 30 and has worked for now 12 years so he is allowed to go and treat himself once a week to a meal out … does this mean we spent £100 on the bill? no no way I don't think I ever had actually. Does this also mean I have a lot in my fridge the rest of the week? no either. My parents were in London this week and we ate out a lot but I will not apologies for my parents being in their 60's as they are fully allowed to spend their money how they want.
Last thing was my traveling and my multiple stop in the USA. Well again for those who know me my passion for America is hardly news, I have loved America ever since I was child.
I often go to America and I feel very lucky to, I also feel very lucky that flights prices are so much cheaper than from France … I also what to remind people that I never go anywhere else on holiday so I am not either a globe trotter… I go to America because I love it, I save money all year round because I love to fly to America, I also never rarely pay accommodation because I have wonderful sister and brother in law who always host us … I have also plenty of friends in America who often invite us to stay with them … I also have a father in law in the Bahamas … I therefor 'only' have to pay for flights … does this mean it all came out of my checking account? No actually have you heard of a credit card?
We all have different way of living our life, my dad loves staying at home, he loves his little french town and his little house and wouldn't change it for the world, I love travelling, I love seeing other faces, new cultures and my husband loves to take a break from work … Yes I spend most of my money on rent and on my clothes and on my flights does this deserve a slap in the face? no … we all put our money where we want to …
I work hard on this blog and blogging isn't the easiest thing every trust me give it a try … everybody's choice of job is different … as far as I am concerned everything is a job … blogging is a job, taking photos is a job, being a banker is a job, and being at home with your kids and keeping your house clean is also a job … So people who have a 9-5 job or people who work from home because they can and because they have worked hard to get their own business, to me it's the same …
Money doesn't make you happy, it helps doing things with people you love … Jealousy is also something that won't make you happy … there a lot of people richer than me and I am not jealous of them, I am happy they found what they love and if they have a 10 bedroom home it means they have the money for it which means they have worked hard to get there doing what? who cares they have done it.
So I would love people to be a bit kinder to each other because life is beautiful and lifestyle and how you choose to spend your money isn't important …
If people have questions or comments please feel free to message me I am always happy to clarify things!
* * * *
Récemment, quelqu'un a pensé qu'il était nécessaire de critiquer mon mode de vie et mes choix alors j'ai pensé longtemps et j'ai donc réalisé qu'il était temps pour moi de mettre les choses au clair et expliquer quelques petites choses et quelques règles …
J'ai toujours pensé que j'étais une petite chanceuse, pourquoi? J'ai des parents merveilleux et aidant qui (comme certains d'entre vous peuvent penser) sont un peu trop aidant, mais heureusement pour moi je suis une fille unique et je crois que les choses auraient été très différentes si cela n'avait pas été le cas. Ma mamie n'a que moi comme petite fille (elle aussi n'a eu que ma mère) Il ya quelque chose dans cette famille a uniquement avoir un enfant … Je tuerais pour en avoir 4 (ne pas dire au mari, il nous ferait une crise cardiaque)
Bref ce n'est pas le sujet de cette
conversation
monologue … Je crois que mes parents m'ont élevé correctement
et m'ont beaucoup appris sur la vie et les valeurs, je value mes amitiés et je suis plus que reconnaissante pour ma merveilleuse éducation. J'ai eu la chance de partir en vacances chaque été avec ma famille et d'aller dans une super école et rencontrer des gens extraordinaires qui sont ensuite devenus des amis. Je suis également très heureuse d'avoir eu des parents qui ont mit de coté pour moi. J'ai ensuite continué ma vie à rêver de vivre dans un pays étranger … Pourquoi ne pas rester dans la douce France, vous allez me dire … bien, j'ai tendance à croire que nous voulons toujours de nouvelles choses dans la vie … et pour moi un nouveau pays, nouvelle culture et une nouvelle langue était mon rêve … J'ai eu de la chance d'avoir voyagé beaucoup plus que certaines personnes, mais aussi beaucoup moins que d'autres. J'ai ensuite rencontré mon merveilleux mari et c'était le début de l'âge adulte … aïe … l'âge adulte un rêve de petite fille de devenir ma propre personne, mon propre dictateur …. Il est maintenant plus compréhensible de la raison pour laquelle Peter Pan ne voulait pas grandir … La vie est dur quand maman et papa ne prennent pas en charge toutes les factures et tous les trucs à réparer dans la maison …
Mais dieu que âge adulte est aussi tellement incroyable, vous arrivez à faire vos propres choix, les plus faciles et les durs et pour certains chanceux vous arrivez à faire ça avec votre deuxième moitié.
J'ai quitté la France et ce que j'ai appelé la «maison» quand je n'avais que 18 ans … DIX-HUIT ANS? WTF … avance rapide après 6 ans et j'ai déménagé neuf fois … oui oui oui 9 fois en 6 ans, j'ai appris une nouvelle culture qui comprend boire de la bière tous les vendredis après le travail avec votre patron et ses collègues? euh les gens boivent de France avec leurs patrons?? J'ai appris que les Britanniques considèrent la France et tous les autres pays européens "LE CONTINENT» ou «EUROPE» euhhh vous faites partie de l'Europe a ce que je sache … j'ai appris que les Britanniques sont plutôt calme et ne plaignent pas autant que française (c'est le moment ou je perds tout respect des quelques amis et famille qui me restent) Mais les français c'est pour vous: nous nous plaignons et critiquons un peut trop parfois …
Certaines personnes vont dire que je déteste les gens français pour dire ça … Eh bien même si je fais semblant d'être britannique, je suis française après tout … donc je me critique autant …
Quoi qu'il en soit, j'ai travaillé avec mon mari pour quelques années pendant l'université (la chance je suis partis d'un pays où la plupart des études sont presque gratuite pour aller dans un pays ou elles coutent *excusé moi* la peau du cul) Bien joué S. bien joué. J'ai eu encore plus de chance quand j'ai rencontrée mon mari …
J'ai travaillé pour mon entreprise de vêtement préférée (cocher sur ma bucket list) et puis j'ai demenagé à Londres, grande et merveilleuse Londres … cher? oui … toutes les grandes villes le sont …
J'ai trouvé une passion pur les blogs … blogger quelle est cette chose superficielle où toutes ces filles montrent uniquement leur placard, c'est être créatif, c'est avoir votre propre type d'entreprise, c'est avoir votre propre site web avec un. Com à la fin , c'est se faire des amis merveilleux sur Internet (oui vous m'avez bien entendu ami sur Internet)
Ce qui m'amène à ceci: J'adore les vêtements … wow grosse surprise non? mon père et ma mère ne sont pas fans de fringues, mais ils ont une légère obsession avec les livres … vous pouvez dire qu'ils sont plus cultivés que moi mais je lis aussi! Ma mamie était un styliste, ma belle-mère est une styliste, ma belle-sœur est une top modèle et ces femmes m'ont inspirés dans les choix de ma vie. J'ai beaucoup de vêtements, merci a Ikea pour les tenir bien chaud et merci à l'Angleterre où les vêtements sont moins chers qu'en France!
Quelqu'un m'a critiqué l'autre jour pour avoir des vêtements «cher», je voudrais rappeler aux gens que j'ai travaillé pour J. Crew et par conséquent mes vêtements étaient moi chers … et que eBay est aussi un de mes meilleur amis … et que la plupart du temps si j'achète un article j'en vends un de ma garde-robe gagnant gagnant comme situation hein? Les gens voient les photos sur Facebook, Instagram, Twitter et ainsi de suite et les gens pensent que ça raconte notre vie en une photo… Grand nouvelle, les photos de veulent rien dire sur la vie de quelqu'un
Les photos sont des photos, une bon amie à moi a un instagram merveilleux et coloré, la plupart des gens rêveraient de voir ce qu'elle voit tous les jours … derrière tout ça elle se bat avec l'infertilité et ne sort pas souvent ces derniers temps … les gens s'en rendent compte derrière un écran? Demander ne faite pas votre propre conclusion. Ma vie n'est pas parfaite, personne n'a une vie parfaite…
Apparemment, je vais aussi d'un restaurant à un autre bien pour ceux qui ne le connaissent pas, mon mari a 30 ans et a été dans le monde du travail pendant maintenant 12 ans, je pense donc qu'il a le droit d'aller se faire plaisir au resto une fois le weekend … cela ne veut pas dire que la facture est de £ 100? Je pense que cela ne nous ai jamais arrivée a vraie dire. Est-ce que cela veut dire que j'ai beaucoup dans mon frigo le reste de la semaine? non plus. Dernière chose sur mes arrêts multiples aux Etats-Unis. Ma passion pour les USA n'est guère nouvelle.
Je vais souvent en Amérique et j'ai de la chance que les billets d'avion soient beaucoup moins cher en UK que en France … Je rappelle au gens que je ne vais nulpart ailleurs en vacances donc je ne suis pas non plus une globe trotteuse… j'économise toute l'année pour aller au USA et nous ne payons jamais de logement parce que j'ai une belle soeur et un beau frère merveilleux qui nous accueille toujours … J'ai aussi beaucoup d'amis en Amérique qui nous invitent souvent à rester avec eux … J'ai aussi un beau-père dans les Bahamas … J'ai donc «seulement» à payer pour des vols … est ce que cela veut dire que les billets sont payes en cash? non .. vous connaissez les cartes de crédits?
Nous avons tous des manières différentes de vivre notre vie, mon père aime rester à la maison, il aime sa petite ville française et sa petite maison et ne changerait pour rien au monde, j'aime voyager, j'aime voir d'autres visages, de nouvelles cultures et mon mari aime prendre une pause du travail … Oui, je passe la plupart de mon argent sur ​​le loyer et sur ​​mes vêtements et sur ​​mes vols cela ne mérite pas une claque dans le visage? nous mettons notre argent là où nous voulons …
Je travaille dur sur ce blog et des blogs n'est pas la chose la plus facile croyez-moi essayez vous verrez … Ce que chacun appelle un 'travail' est diffèrent … pour ma part tout peut être considéré comme un 'travail' … Bloguer est un travail , prendre des photos est un travail, être un banquier est un métier, et être à la maison avec vos enfants et garder votre maison propre est aussi un travail … Alors, les gens qui ont un boulot 9h-5h et les personnes qui travaillent à la maison parce qu'ils peuvent et parce qu'ils ont travaillé dur pour obtenir leur propre entreprise, pour moi c'est la même chose …
L'argent ne fait pas le bonheur, il permet de faire des choses avec les gens que vous aimez … La jalousie est aussi quelque chose qui ne fera pas votre bonheur … les gens qui ont une maison de 10 chambres, ont l'argent pour et si ils ont l'argent pour c'est qu'ils ont bossés pour … est ce que ça vaut le coup de les critiquer?
J'aimerais que les gens soient un peut plus respectueux entre eux parce que la vie est belle et le mode de vie et la façon dont vous choisissez de dépenser votre argent n'est pas important …
Si les gens ont des questions ou des commentaires s'il vous plaît n'hésitez pas à m'envoyer un message Je suis toujours heureuse de clarifier les choses!
xo S.S