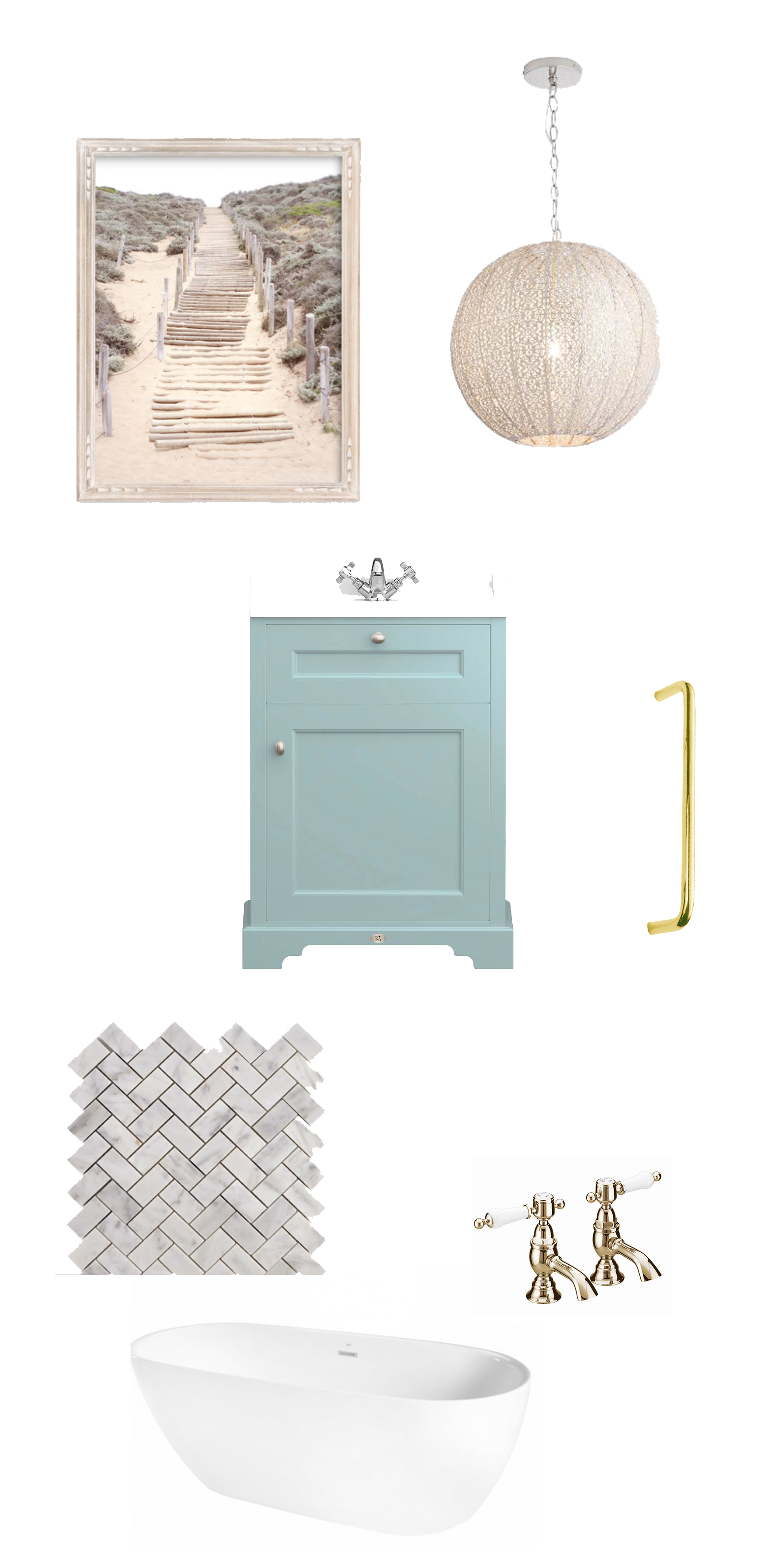 As most of you know we have bought our first house this year (well last year god!!

how is it already 2017?

)

As we bought the house in June and moved in in November we had plenty of time to think of decoration ideas/ renovations. We knew we wanted a fresh coat of paint and new floorings (I am allergic to carpet good excuse right?!) so we opted for wooden floors. But one of our priorities was t

he baby's room which is all done now thanks partly to Silver Cross, I

can not wait to share our partnership with them. My 'vital'

closet too

is finished (thanks to hubby and his dad for building it

)

Our next renovation now is to revamp the bathrooms and kitchen, nothing was ugly or old in the house as it's only 6 years old but we wanted to make it our own as it was finally a house we could call 'our home'.
So here is a little inspiration for the bathroom, at least the bath area as we have two bathrooms so you will see the shower room and then the bath room, we are actually
partnering with some pretty amazing brands for these projects and hope you like the result (hope we do too h
aha)
My top recommendations for a fancy bathroom:
Make the roo

m feel like a spa (trust me you won't regret it)

Opt for white if it's a small room, keep it simple and fresh

Stick to

a theme

Add gold touches (always)
Mix and match prices and style (no need to always splurge to make it look fancy trust me!
If you splurge go for marble or similar type of tiles
So stay tuned for our renov …
That's all for me today (links bellow image)
xo S.
Print: Minted, Light: Home Base, Sink: Victorian Plumbing, Tiles: Walls and Floors, Bath: Victorian Plumbing
**
Inspiration pour une salle de bain
Comme beaucoup d'entre vous le savent déjà, nous avons acheté notre première maison cette année (en fait l'année dernière …déjà 2017?
est-ce possible!
)
Etant donné que nous avons fait l'achat en juin dernier et emménagé seulement en novembre, nous avons eu tout le temps de penser à des idées de décoration et rénovation. Nous savions qu'un petit coup de peinture fraiche serait nécessaire ainsi que de nouveaux sols (je suis allergique à la moquette, une bonne excuse, n'est-ce pas?) nous avons donc opté pour du parquet.
Mais une de nos priorités était la
chambre de bébé, elle est prête en partie grace à Silver Cross et je suis très impatiente de vous faire part de notre partenariat avec eux.
Ma « nécessaire » penderie aussi est terminée (un grand merci à mon mari et son père qui l'ont montée!)
Notre prochain projet maintenant est de re-looker les salles de bain et cuisine. Rien n'était vraiment laid ou vieux dans cette maison car elle n'a que 6 ans, mais nous souhaitions vraiment nous l'approprier puisque c'est la première fois que nous sommes propriétaires.
Voici donc quelques idées pour la salle de bain, tout au moins le coin du bain et comme nous avons deux pièces (bain et douche), je vous vous présenter les deux.
Pour ce projet nous avons un partenariat avec des compagnies plutôt fort sympathiques et j'espère que vous allez en apprécier le résultat… (et
nous aussi d'ailleurs, ?)
Voici donc une sélection de mes recommendations pour une salle de bain sobre mais chic:
Faites en sorte qu'elle vous rappelle un spa (croyez-moi, vous ne le regretterez pas)
Optez pour le blanc si la pièce est petite puis choisissez sobriété et fraicheur
Tenez-vous en à un seul thème
Ajoutez toujours quelques touches dorées
Conciliez prix et style mais pas besoin de faire des folies pour lui donner du charme.
Cependant, s
i vous avez les moyens de faire quelques dépenses supplémentaires alors choisissez le marbre ou bien un carrelage similaire.
Donc restez en contact et suivez notre rénovation.
Voilà, c'est tout pour aujourd'hui!?voir liens ci-dessous