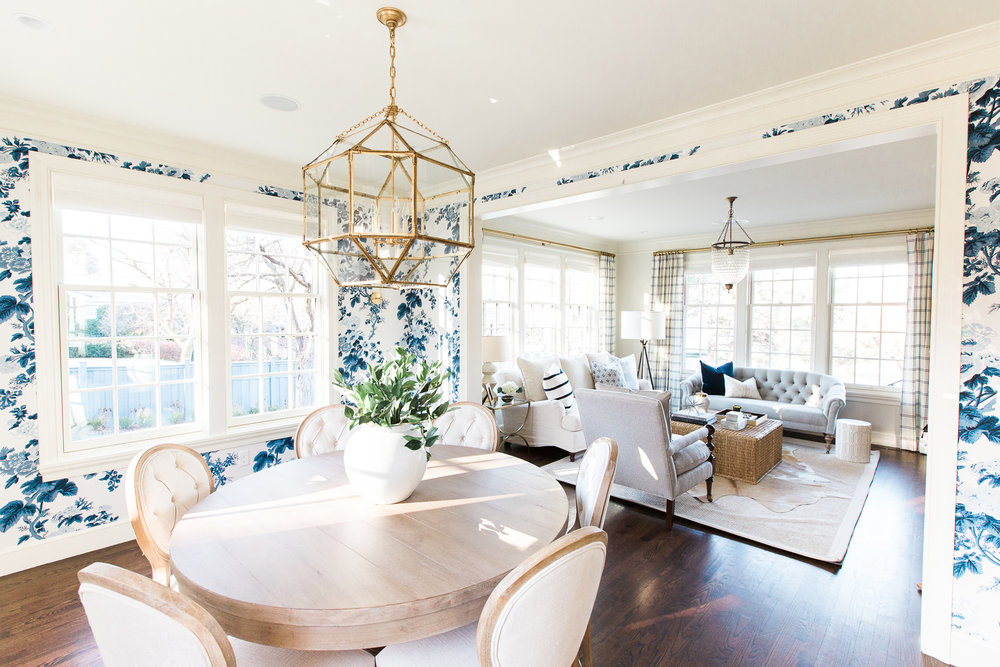 (photo credit: Studio McGee)
We all want our home to look super duper amazing right?! how

do we

girls do it? how do bloggers do it? (well, bloggers

get things for free so don't count on them to help haha kidding)

Here are my tips to make your home look chic on a budget:

Spend a lot of time online looking around for cheaper versions to what you want.

Opt for oversized art, it does not have to be expensive, you c

an buy a lovely large photo or poster and frame it to your taste, for

example browse

Minted.com

,

they have amazing pieces for every taste.

Lighting, I can not stress enough that lighting makes a huge difference into a room, choose wisely, it d

oes not have to be expensive to look great!.

I get mine either at

Wayfair.co.uk

, Homebase or Dunelm. They have a really good range of choices and lighting is important to make a room feel warmer especially in the winter and dark days.

Mix and match, it's important to stay in your budget and not go overboard with crazy prices but I still believe that one or two pieces per room can be a little luxury. For example my closet/office is entirely from Ikea (more on that soon) so I stayed on budget for this room however I really want to be comfortable when at my desk so I am going to splurge on a lovely armchair. You could splurge on a good sofa for example that is essential for your comfort. We s

pend a lot of time getting comfy at home in the evening.

Don't shy away from colours

Go bold with patterns, I have always wanted to have a funky powder room so I am going to go a little crazy and get a fun pattern for the walls and chic flooring to break the crazy option?

Bold curtains, the bigger the better in terms of curtains!
Spring fresh flowers, always and forever have

a pretty bunch of flowers on your table you never know someone important might walk into your house hahah I l

ove the smell of flowers and also the colour it brings. I used to go to the wholesale in London it was like flowers heaven. I think I have found one around here and need to go and check it out.
Get a rug, we have put wooden floors everywhere in the house and I think it's nice for the feet comfort to have a little rug in some rooms (nothing too fluffy especially if you are allergic) I'

m going for one in the lounge and a little one in my closet that's all.
Bye for now
xo S.
**
Comment donner un look design à votre maison sans faire trop de dépenses.
Nous avons tous envie de donner un style top de chez top à notre maison, n'est-ce pas? comment y arriver? comment, nous blogueuses, nous y arrivons? (et bien notre avantage, ce sont les produits gratuits…désolée mais ce sera difficile de vous aider la-dessus!)?
Voici néanmoins quelques conseils pour donner du style à votre maison sans grandes dépenses.
Tout d'abord, n'hésitez pas à passer du temps en ligne pour sélectionner les versions les moins onéreuses de ce que vous recherchez.
Choisissez par exemple des reproductions ou images de grande taille. Pas besoin d'acheter les plus chères, une grande et belle photo ou poster que vous encadrez selon votre goût fera l'affaire. Consultez par exemple le site Minted.com. Ils ont de superbes images pour tous les goûts.

L'éclairage! Je n'insisterai pas assez sur l'importance de la lumière qui fait toute la différence dans une pièce: choisissez un éclairage avec attention, pas besoin de dépenser une fortune pour que ce soit beau! Je cherche mes éclairages chez

Wayfair.co.uk,

Homebase ou Dunelm. Ils ont vraiment une belle gamme de choix et la lumière d'un éclairage est vraiment importante pour donner de la « chaleur » à une pièce, particulièrement en hiver ou lors de journées bien sombres.

Combiner et associer, c'est capital pour rester dans votre budget et ne pas le dépasser avec des prix exorbitants, mais je crois cependant que l'on peut se permettre un peu plus de luxe sur un ou deux éléments . Par exemple mon bureau/penderie est entièrement constitué de meubles Ikea (bientôt quelques infos sur Ikea) aussi je suis restée sur un budget raisonnable pour cette pièce. En revanche je veux vraiment du confort pour travailler donc je vais investir un peu plus dans un joli fauteuil. Le canapé est également un meuble pour lequel on peut se permettre de dépenser plus car nous y passons souvent du temps le soir et le confort est nécessaire dans ce cas là.

Ne vous privez pas de couleurs!

Foncez vers les motifs, j'ai toujours voulu des toilettes « cool » aussi je vais me lâcher et dénicher un motif rigolo pour les murs mais y associer un sol plus chic pour rompre avec l'excentricité des murs.

Un peu d'audace dans le choix des rideaux, plus ils sont volumineux et mieux c'est en terme de rideaux!

Disposez ici ou là des fleurs naturelles, ayez toujours et tout le temps un joli bouquet de fleurs sur votre table…sait-on jamais une personnalité importante peut débarquer chez vous à l'improviste! je plaisante…mais j'aime beaucoup le parfum qu'elles dégagent et aussi les compléments de couleurs qu'elles apportent.

Jusqu'à présent , j'allais au marché aux fleurs à Londres, le paradis des fleurs!. Je pense que j'ai trouvé un marché équivalent ici… aussi je vais m'y rendre et voir ce qu'il en est.

Ne vous privez pas de tapis non plus, nous avons des parquets dans toute la maison aussi je pense qu'un tapis ou deux dans certaines pièces (rien de trop duveteux si vous êtes allergiques) est une bonne idée. Personnellement, J'ai l'intention d'en placer un dans le salon et un tout petit dans le bureau. Et c'est tout..