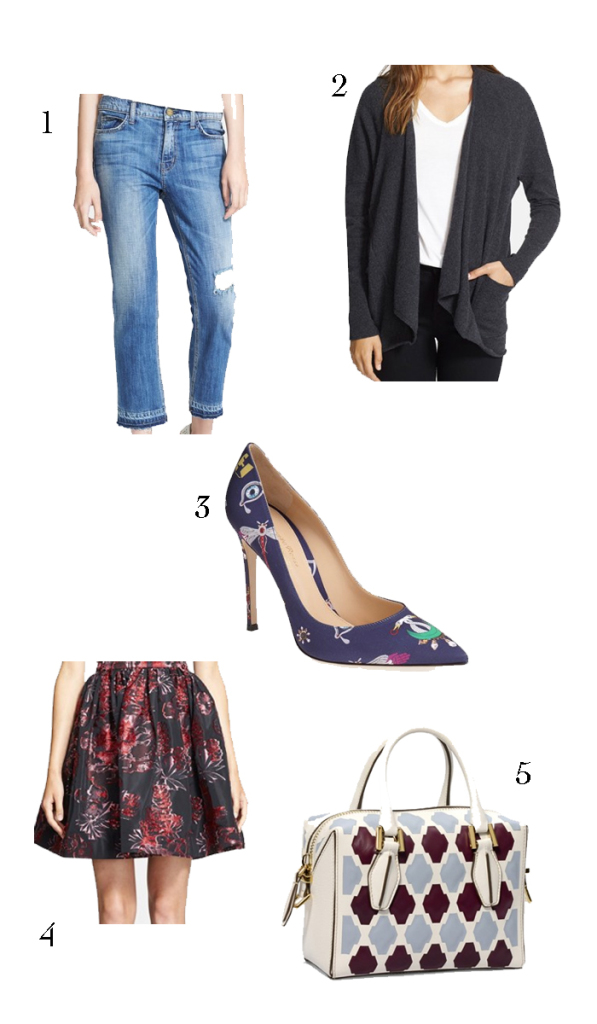 Morning everyone, I know it's been a whole week without blogging. I am so sorry I did too much last week and ended up at the hospital for too much stress. I took a day off sleeping and watching Gilmore Girl (thank you Netflix) then I spent 4 days at the London College at Fashion taking an intensive course 'Starting your own fashion label' so I have been really busy until late Sunday and I just spent all day yesterday on my emails. Plus I did not have time to shoot any new outfits so I will spending the next 4 days shooting some looks. Busy week and then I am off to France for a week and then a couple of weeks back in London and off to the USA. I am already packing in my head, it's so hard to pack for two weeks of snowy weather and then finish off in the sunshine … it's gonna be a fun looking suitcase. These are some of my favourite SALE items at Nordstrom, they always have the best pair of jeans, and I love buying staples like jeans and that gorgeous cashmere cardigan in grey it goes with everything. Those heels are gorgeous, I adore the design and I have heard so much about the designer in my class last week so it means even more. I like to have a few pieces in my closet that I can wear for evenings out like this skirt, it's a perfect colour for the winter season and would look good with just anything a little top for a evening out or simply a white blouse for everyday wear. An accessory is everything for it can change an outfit completely, wether it's a scarf, jewellery or a good bag. This bag would go with a lot in my closet, I have a lot of white and blue and some burgundy for this season. Although I am enjoying adding a few essential sale pieces to my wardrobe I am reedy for some Spring Summer pieces!
Enjoy all those pieces and more by clicking through the link, Nordstrom is one of my favourite place to shop, it's always my first stop when I get to the US. But I am so glad they ship Internationally and at a very reasonable price.
Up to 60% OFF: Designer Ultimate Markdowns at NORDSTROM.
Hope you like it!
1. Current Eliott
2. Autumn Cashmere
3. Mary Kantrantzou
5. Tod's
xo