AD | I hope you are all keeping well and as I am assuming everyone is home today I am sharing a lovely little recipe for dinner tonight. I am thrilled to share with you an easy, simple and balanced mid week meal for the family. In addition to the beef, this recipe features onions and red peppers and I've paired the meatballs with avocado, cucumber and feta cheese for flavour and crunch, but you can have them whatever salad or sides you have in your kitchen.
Did you know the benefits it has on your body? Vitamin B12 for example can be found naturally in food from animal products and will help support health and well being. Beef contains zinc, iron, vitamin B12 and vitamin B6 which can help the immune system work properly.
Adults need around 1.5 micrograms of B12 a day, and it also helps normal energy production, psychological function, red blood cell formation and helping reduce tiredness and fatigue.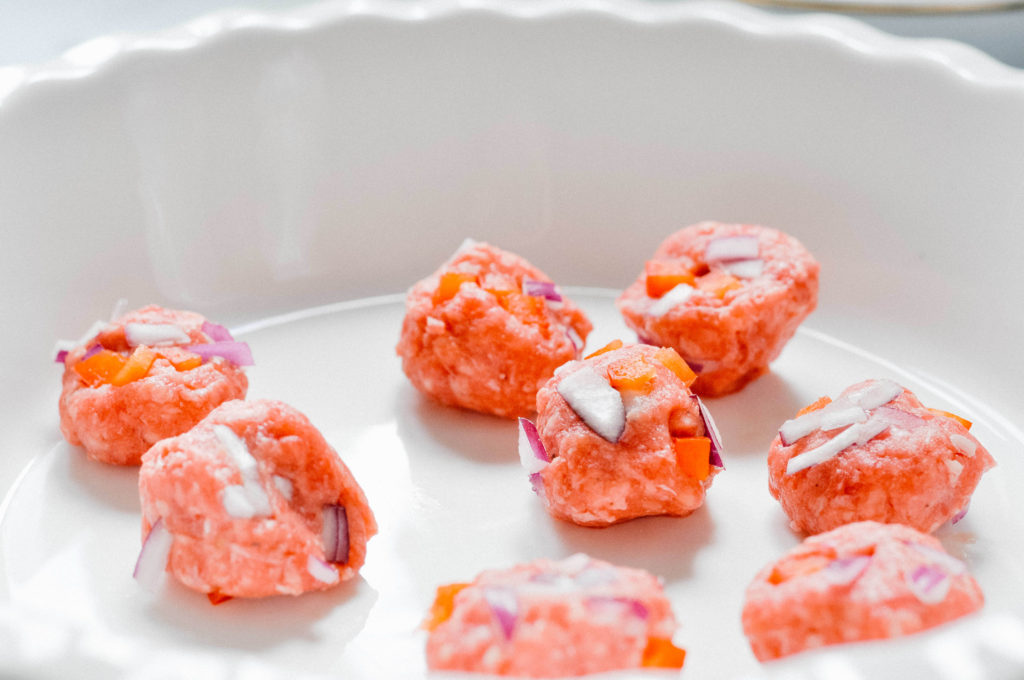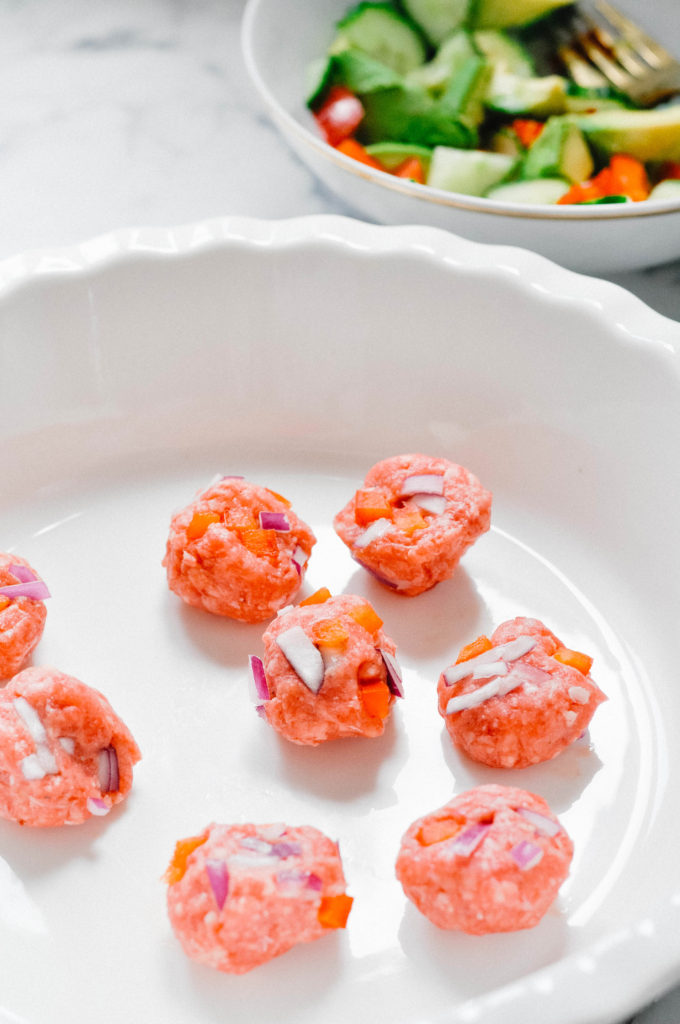 Below you can find all the great reasons to eat beef: 
Beef is a naturally rich source of vitamin B12
Vitamin B12 helps energy production in the body
Vitamin B12 helps the nervous system work normally
Vitamin B12 helps red blood cell formation
Vitamin B12 helps the immune system work normally
Vitamin B12 helps reduce tiredness and fatigue
Beef is naturally rich in protein, low in salt and provides eight vitamins and minerals that contribute towards good health and wellbeing. These are: iron, niacin (vitamin B3), vitamins B6 and B12, zinc, riboflavin, potassium and phosphorus.
Here is my recipe for our simple balanced meal for the family. Beef is easy to incorporate, quick to cook and kid-pleasing. Being French, I have always had a love affair with red meat and I am definitely grateful that my little one is a fan too. 
Tonight I am cooking homemade meatballs from fresh beef. I have mixed the mince with red onions and red peppers, pepper and garlic powder to give it a little extra taste and as spring is just around the corner I have added a salad as a side.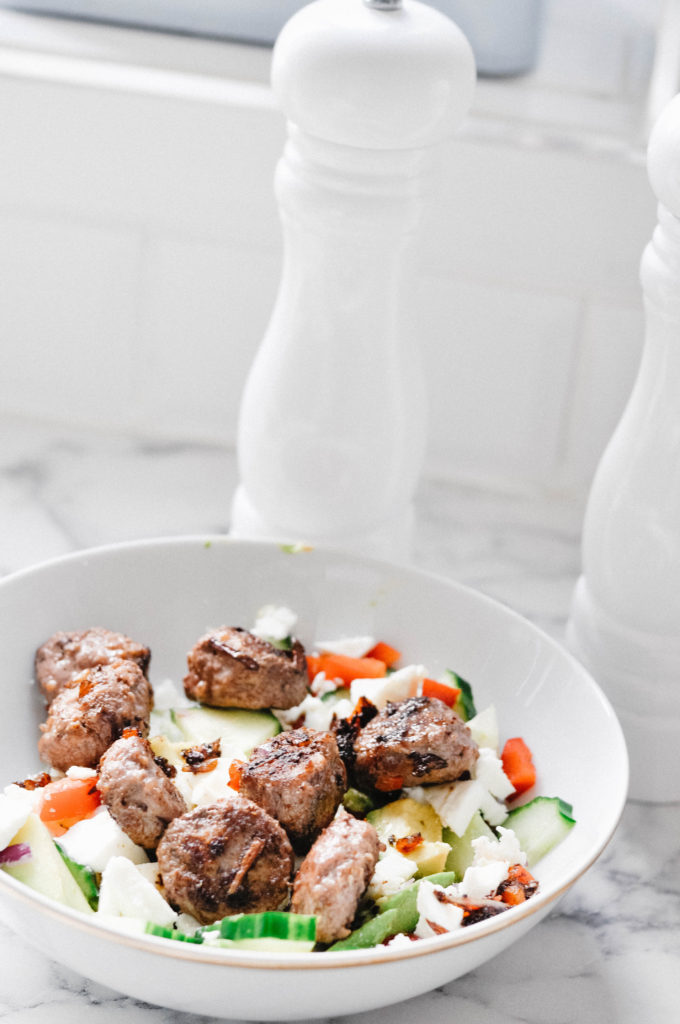 You will need the following for your recipe: 
. Fresh, lean minced beef (5% fat and under) to create the meatballs
. Red onions (diced) to incorporate in the meatballs and some for the salad
. Red pepper for the meatballs and for the salad too
. Avocado
. Feta cheese
. Cucumber 
. Olive oil
. Seasoning (I have only added pepper and garlic powder whilst cooking) 
Heat up on the pan for around 10-12 min until well cooked, prep your salad into a bowl and serve it to your family. I am really pleased with this recipe because it's super quick for a simple balanced meal and it really is a crowd-pleaser and nutritious. You can also find more photos on my Pinterest board here.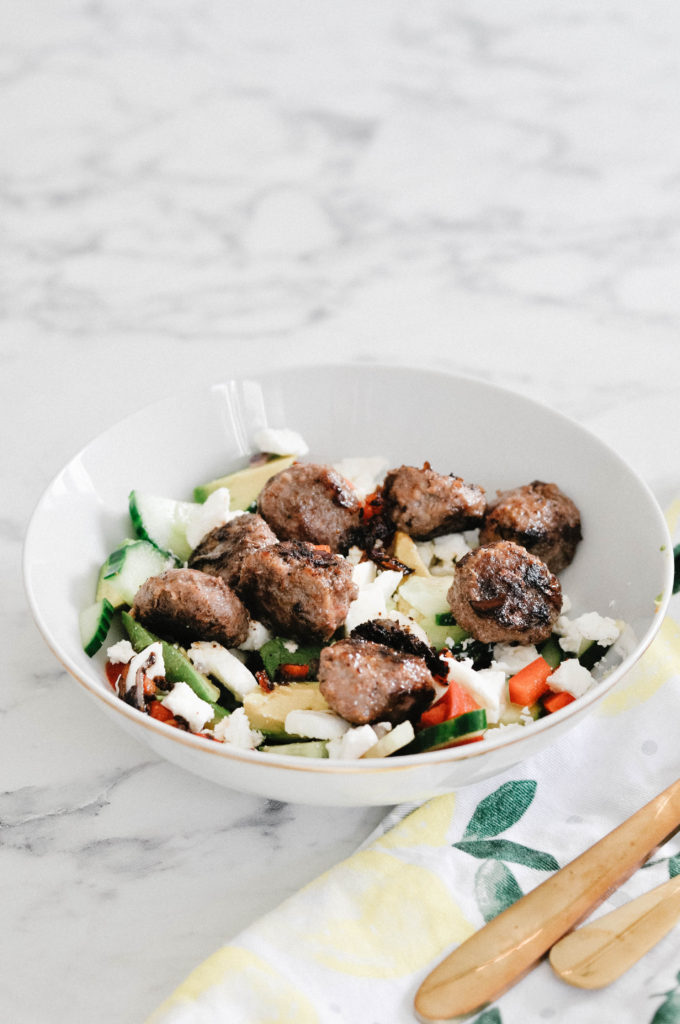 The #SimpleBalancedMeals #CookingatHome campaign is sponsored by the Agriculture and Horticulture Development Board (AHDB), Quality Meat Scotland (QMS) and Hybu Cig Cymru – Meat Promotion Wales (HCC) – the English, Welsh and Scottish levy bodies that between them cover all food groups in a healthy balanced diet.
This is a paid partnership with BritMums, Welsh Lamb and Beef, The Scotch Kitchen and Simply Beef and Lamb highlighting easy meals at home and simple balanced meals. 
Visit https://eatwelshlambandwelshbeef.com/en, https://www.simplybeefandlamb.co.uk/ and https://www.scotchkitchen.com/ for more delicious and simple balanced meals with beef! 
Thanks for following along and take care,