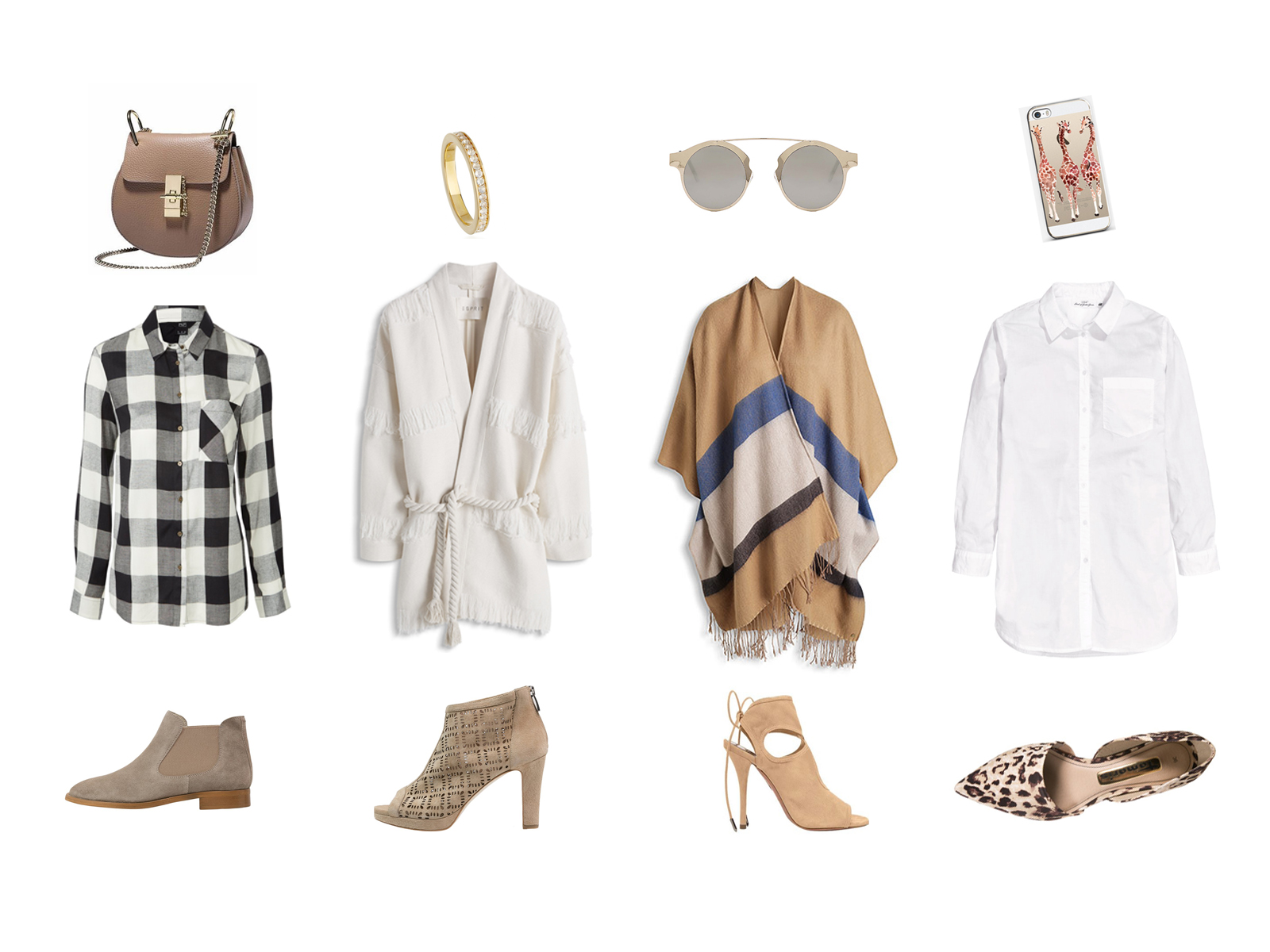 I compiled a few of my favourite pieces to transition between summer and autumn. I find it so hard to dress at the moment it gets really cold and we have not seen much of the sun lately and then all of the sudden it's humid and hot. I think booties or little printed flats can go with almost anything you could easily wear any of those shoes with denim shorts so it's perfect for whatever you are wearing.
Nude colours will always be the easy choice for transitioning between seasons I find that it works quite well for spring too, a white shirt or a nude cardigan with a white denim and beige sandals FTW as we say (for the win)
I love a good plaid shirt, especially to get me through autumn and winter as well, I have a red one (for xmas of course) and then a couple of green and navy ones but I have not got a black one and this one seems so comfy, I also found a poncho version would be so cute with black knee boots.
The maxi white shirt is a staple, I have a normal sized one with jewellery on top (not easy to wash you might think) but I really love having a long one like this H&M one it's super cool for summer days on the beach if you don't want everyone looking at your bottom or for autumn with skinny jeans or a legging. I love adding colour into my wardrobe especially in the summer but I always seem to come back to staples and easy colours. I am going to keep it super simple this season I really want to prove to you guys and to challenge myself that you don't need to spend 1000 to get a few good outfits, it's all about layering and mixing what goes together, are you in for the challenge this autumn? keeping simple and cheap?
I am still dreaming of endless summers but let's be honest the weather does not help so I hope you like my looks and you will find it inspiring.
xo S.
Chloe bag, also this one in a million colours for under $100, Plaid shirt Forever 21, Bootie Zalando, Ring Astley Clarke, Cream cardigan Esprit, Opened bootie Zalando, Sunglasses Revolve, Poncho Esprit, Heels Aquazurra, White shirt H&M, iPhone case Inslee, Leopard flats Zalando (one sale £32)