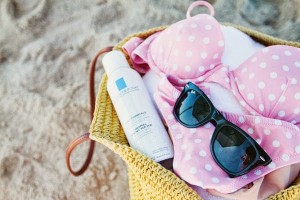 When the week starts I can only think of one thing … FRIDAY and when friday comes I can only think of ESCAPING and lately escaping under the sun … This photo reminds me of the amazing summer we had, the wedding, sun, NYC, The Hamptons, New England, Bikinis, (my 100 pairs of Ben Simon) …

A little reading for you this weekend, enjoy :

. I think I am definitely going to try this little shoes DIY, it looks ever so easy and the result is quite cute for the summer ….

. This is every so brilliant, I should (as you all should) print this and just keep it in mind whenever I ask myself questions about fashion etc … I particularly like this one : "Always organize your clothes going light to dark from left to right in your closet. Your eye will follow the color and thus help you stay organized." — Melanie Charlton Fascitelli, Founder, Clos-ette and Clos-ette Too.
Is this a way of telling you all that I am so not organised … well kinda … I mean I am usually a bit OCD when it comes to cleaning and organising but then I wake up in the morning and try to find my outfit for the day and then bam my closet is (somehow) a mess …

. These beauties are on their way to me, aren't they just so cute? blush pink AND with a bow? plus don't forget J.Crew has an extra 40% off sales items (US only)

. If you are like me and have been looking for some comfy and cute silver pumps these are a must, hold on to that one … they are only 19£ (would be silly not to get the pink ones)

. Who does love a good simple J.Crew sweater , add a little Monogram on it and it will be fully yours forever 🙂

. Do you read Design Darling blog? if you are thinking right now 'hmm never heard' then big mistake click on it right now and start reading! She is every so sweet and her style is impeccable. She has done a 101 in 1001 list of 101 things to do in 1001 days … the right list that is not a 'to do' list nor a 'bucket list' I have started mine last summer and will be putting it soon on the blog, in the mean time have a look at MacKenzie's one.

. A little inspirational post from The EverGirl, for anyone in need Marie Clair editor in chief


Have a wonderful weekend everyone!




image via