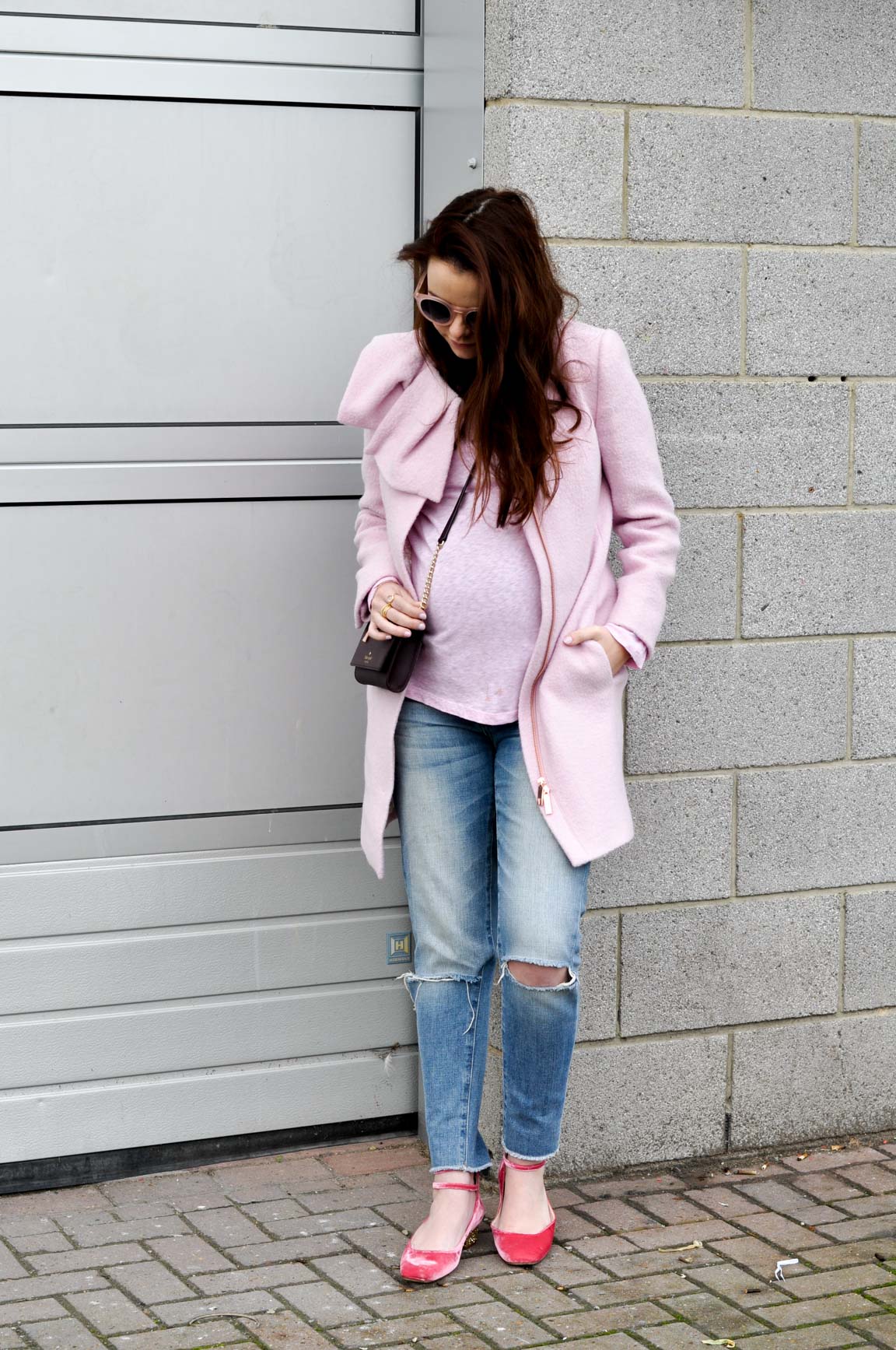 Good morning friends

hope you are well with this cold weather at least the sun is out a little which is a bit nicer. I have been wearing black on black lately, I find it really hard to get dressed especially with the really cold weather or rain constantly. I have switched a little bit to my favourite colour (pink) I am a lady please haha

I like to mix and match styles and price point as well this look has got both, in terms of mixing I quite like to be very feminine (here with a blush pink coat from Ted Baker and a cute Kate Spade bag thanks to the hubby) and then I break the girly look with a destroyed boyfriend denim and add some cute pumps (Kate Spade) to sparkle a little on my feet.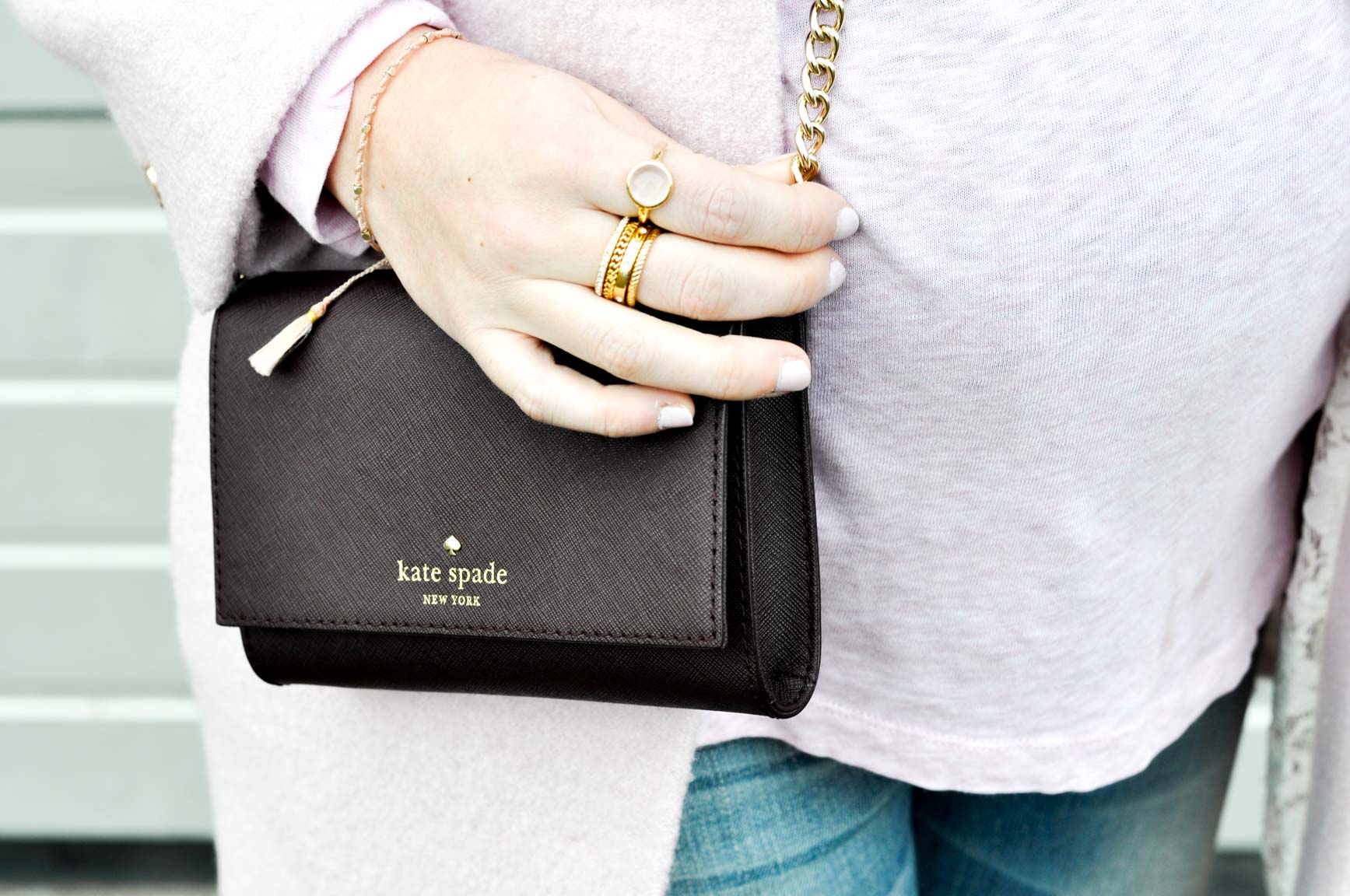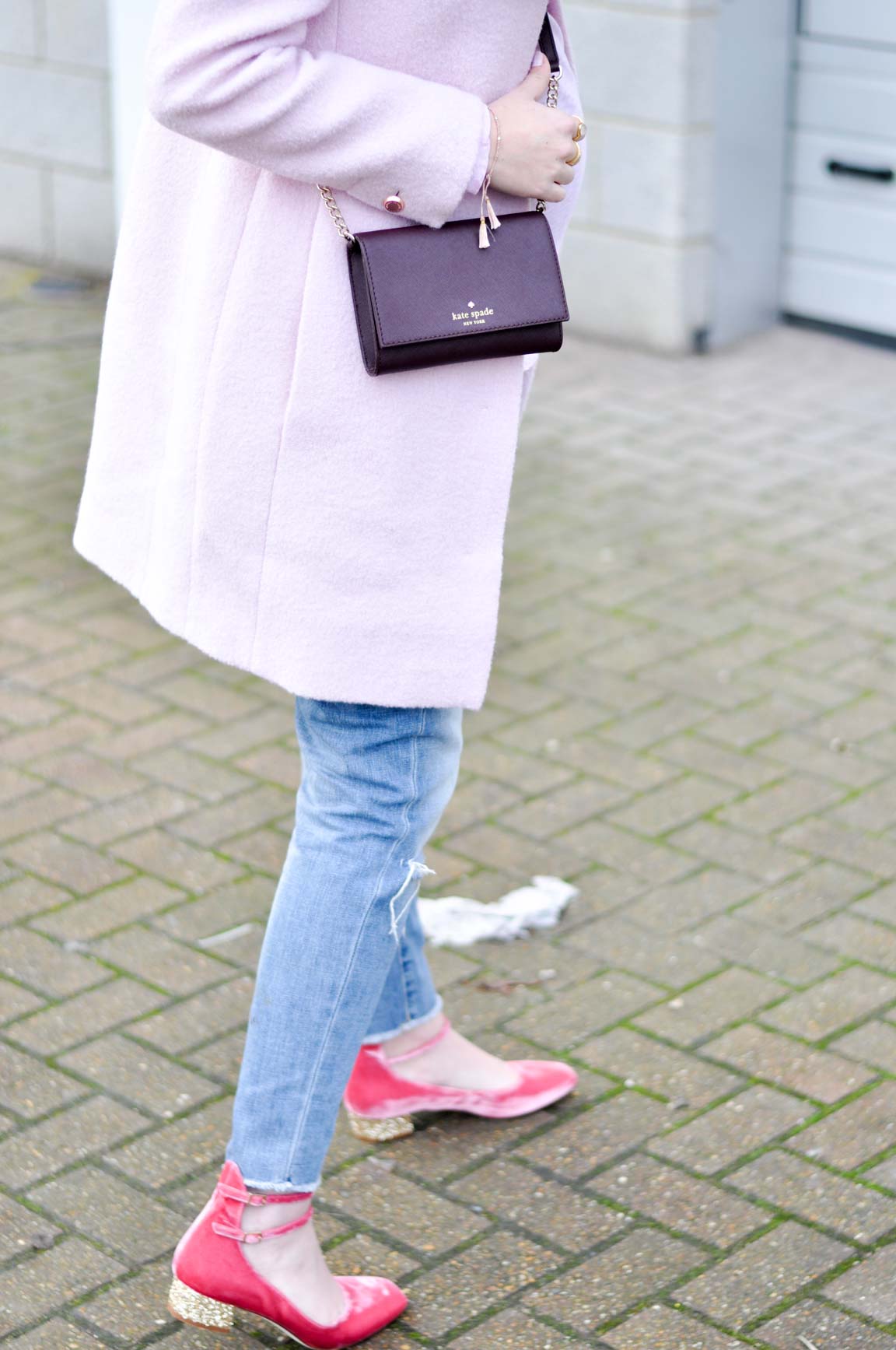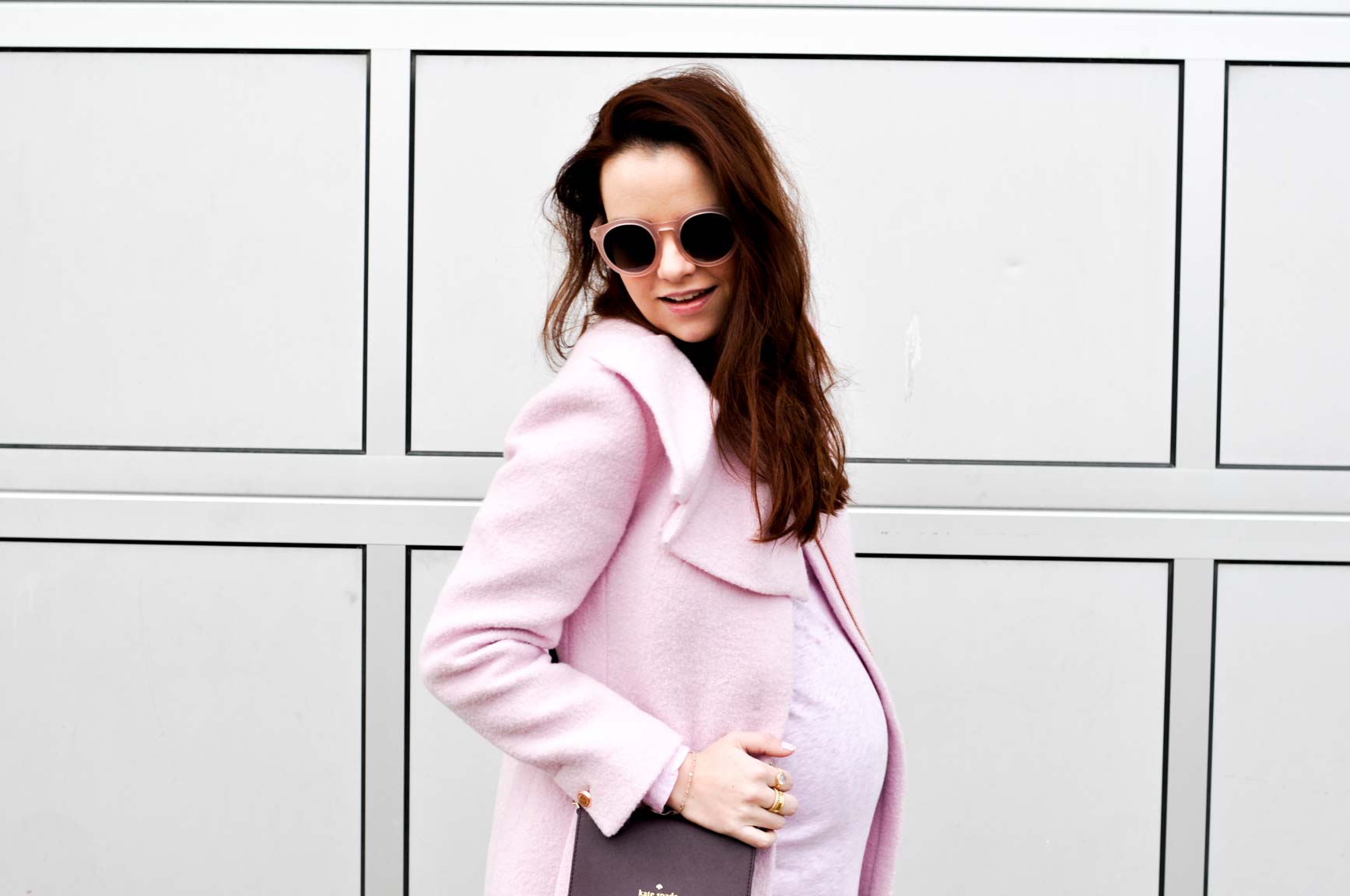 I got these shoes on major SALE during Christmas just £100 down from £300 what a major score, I realised with the years that less is more, I mean that I tend to want to get so much in the sale and then regret it most of the time rather than this was really my only purchase but I am glad I did it because it's an investment piece I will never part from these Kate Spade shoes (plus they have sparkles on them)

In terms of price point I always say dress nicely whatever the price it's not about how much it cost it's how you style it. I like to accessories with more expensive pieces and keep the rest of the look quite simple.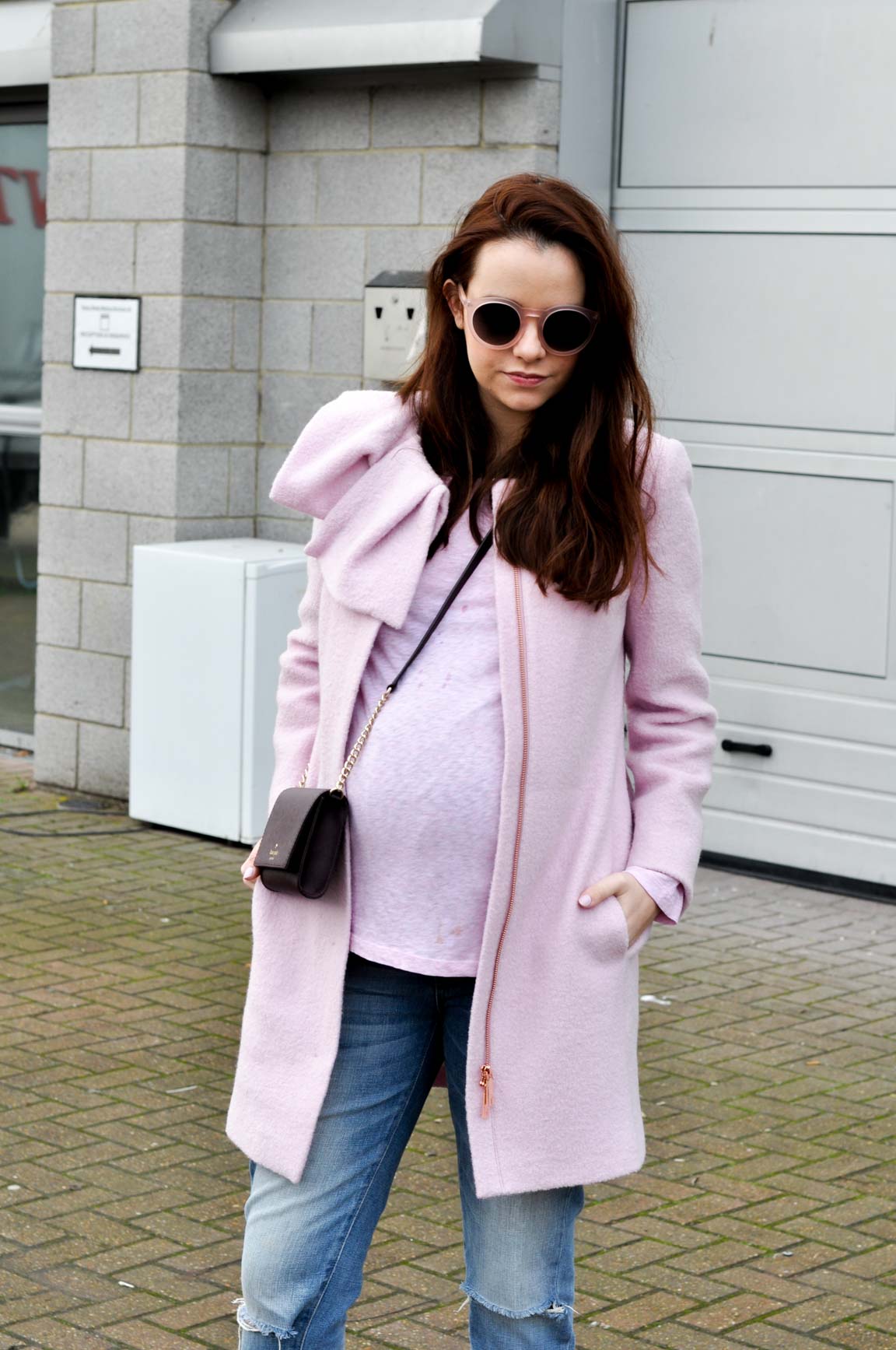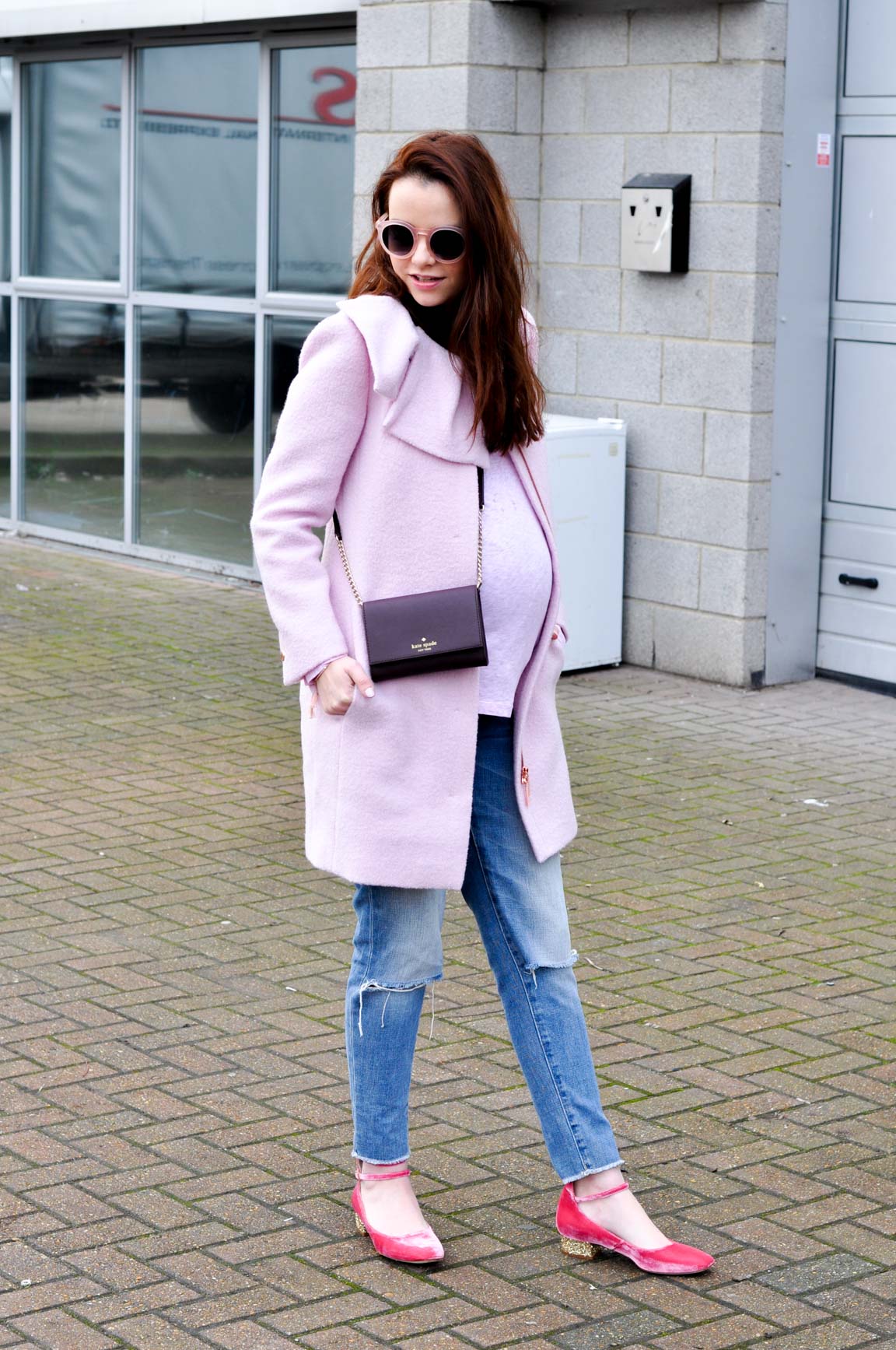 My coat is from Ted Baker and I am so in love with it, bag and shoes from Kate Spade and the top is an old J Crew but when it comes to the jeans I bought them a little while ago in the US at Target for less than $20.

Hope you like the look and I have so many cute looks for this Spring Summer to share with you soon can not wait to get back into shooting properly as we moved recently it's also been a challenge to find new shoot locations and it will be even more with a baby in the back seat hahah wish us luck!

PS: the stains on my top aren't dirt it was raining hahah

Speak soon

xo S.
**
Bonjour chers ami(e)s! j'espère que vous allez bien malgré le froid. Fort heureusement il y a un peu de soleil et c'est déjà mieux.
Récemment je n'ai porté que du noir, en fait je trouve que ce n'est pas facile de s'habiller quand il fait très froid ou bien qu'il pleut constamment aussi je commence tout juste à changer pour aller vers ma couleur préférée à savoir le rose…et oui je suis une femme après tout.
J'aime bien mélanger, associer les styles sans oublier l'aspect financier pour autant et bien cette tenue est tout à fait conforme. En terme d'association j'aime la féminité (ici un manteau Ted Baker rose soutenu et un joli sac Kate Spade, merci à mon mari) puis je casse ce coté très féminin avec un jean déchiré look garçonne et j'y ajoute de craquantes ballerines (kate Spade) pour donner un peu d'éclat à mes pieds.
J'ai eu ces chaussures lors de supers soldes en période de Noël à £100 de réduction sur £300…ce qui n'est déjà pas mal. Je me suis rendue compte au fil du temps que moins peut signifier plus, je veux dire par là que j'ai tendance,comme tout un chacun à vouloir obtenir beaucoup lors des soldes et le plus souvent j'ai des regrets. Aussi à cette occasion, c'était mon seul achat et j'en suis tout à fait satisfaite parce que l'investissement en valait la peine… Je ne suis pas sur le point de me séparer de ces ballerines Kate Spade. (de plus, elles brillent sur le dessus)
En terme de coût je dis toujours; habillez-vous joliment quelque soit le prix car souvent le prix n'est pas le seul déterminant, il s'agit surtout du style que vous apporterez à votre tenue. J'aime accessoiriser par exemple avec quelques articles plus onéreux mais en conservant un style simple.
Mon manteau est un Ted Baker et je « l'adore » , le sac et les chaussures, Kate Spade et le haut que je porte est un ancien J.Crew. Quant au jean, je l'ai acheté il y a quelque temps aux US chez Target pour moins de 20 dollars.
J'espère que vous apprécierez l'ensemble et je prévois beaucoup d'autres tenues pour ce printemps été et j'ai hâte de partager tout cela avec vous bientôt avec des prises de vue satisfaisantes. Suite au récent déménagement le défi est de trouver d'autres lieux, d'autres sites et bientôt il va y avoir bébé dans le siège à l'arrière de la voiture…souhaitez-nous bonne chance.!