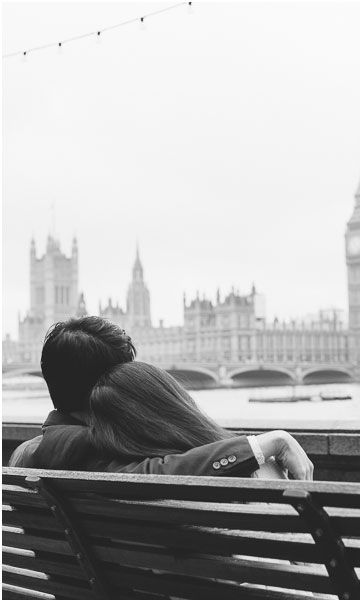 I think you never know too much about relationships, nobody ever says 'my relationship is perfect' let's be honest the ones that do are fooling themselves. A relationship is hard work, it's about listening to t
he other person, helping them and also making sacrifices.
You can never be too experienced,
no matter how many partners y
ou have had … I mean I have learnt from my past, I have learnt
what I wanted in a man and I what I did not want …
Then there is the eternal question: is he my soulmate? do soulmates really exist?
Well
…
.
in another chapter otherwise we will be here until tomorrow. I am no expert in relationships but all I can say is that it's not always easy, we fight, we disagree, we don't always understand each other but we love each other and that's the most important thing.
In a relationship you have to be prepared to make sacrifices, but remember don't lose
yourself in the process or do something you don't want to do. I met my husband when I was only 18 (going on 19) and I thought a few times 'am I too young to have found the one?', 'Am I r
eady to move country for a man?' I mean WWCBS (what would Carrie Bradshaw say) I knew I always wanted to move out of France but I kinda had my heart set on NYC so changing my whole life dream for London was a big choice …
However the choice was easy, it was a city or the man I loved … well no need to tell you what I chose as we have now been together for almost 8 years and almost 4 years of marriage and a tiny human soon to be born …
When you make big choices and changes like this in your life just make sure in the future you don't throw them in their faces when something goes wrong …
I often felt homesick and I miss NYC every single day so whenever we had a silly fight I'd throw it back out 'I moved for you' and bam in the face. Really how immature of me!
Everyone make sacrifices in their relationships/life not matter small or big but the important thing to remember is that you chose and agreed on those changes … I never regret my decision and never will.
I believe it's safe to say hat
a relationship whether
with a man, friend or family member
takes effort, it's like looking after a flower …
it doesn't grow if you don't tender
it. However what I would say is that a relationship with two people from two different countries with two complete different cultures
is by far one of the hardest things
I have ever done, there is always something better in this country or people in that country do this better and so on …
So my little relationship advice, choose your battle, conversation is key and make choices that only you and your heart believe in
and never have regrets.
To the man of my life who constantly reminds me that love is stronger than anything and who is always the calmest of us two hahaha …love you to the moon and back!
What about you guys, any relationship advice for us all out there? any sacrifice you made for your relationship? we are all ears a
nonymously or not!
xo S.
***
Relations et petits sacrifices
Mon avis est que nous n'en connaissons jamais assez sur nos relations amoureuses, personne ne peut dire: ma relation avec un tel ou une telle est parfaite, pour être honnête ceux qui l'affirment se trompent. Une relation est le fruit d'un dur travail qui consiste à écouter, aider, faire des sacrifices.
On n'a jamais assez d'expérience dans ce domaine, peu importe le nombre de partenaires que l'on a eu….je veux dire que j'ai appris du passé, j'ai appris ce que je recherchais chez un compagnon et ce que je ne voulais pas.
Et puis il y a l'éternelle question: est-il , est-elle l'âme soeur? les âmes soeurs existent-elles vraiment?
Réflexions pour un prochain article, sinon demain nous y sommes encore!? Je ne suis pas une experte en la matière mais ce que je peux dire est que cela n'est pas toujours facile, on se chamaille, on n'est pas d'accord. On ne se comprend pas toujours mais on s'aime et c'est la chose la plus importante.
Dans toute relation il faut se préparer à faire des sacrifices, mais souvenez-vous, ne vous reniez pas dans ce processus, ne faites pas ce que vous ne voulez pas faire. J'ai rencontré mon mari à l'age de 18 ans, presque 19 et je me suis demandée quelques fois, suis-je trop jeune pour avoir trouvé la bonne personne? suis-je prête à quitter mon pays pour un homme? je veux dire WWCBS (what would Carrie Bradshaw say?) Je savais que je voulais quitter la France et New York était le rêve de ma vie depuis longtemps, aussi changer pour Londres n'était pas une décision facile.
En fait le choix était simple: c'était la ville ou l'homme que j'aimais….inutile de vous rappeler mon choix puisque nous sommes ensemble depuis bientôt 8 ans et mariés depuis presque 4 ans avec un petit être à naitre d'un moment à l'autre.
Quand vous avez des choix importants ou des changements à faire dans votre vie assurez-vous que par la suite vous ne vous les renverrez pas à la figure dès que quelque chose n'ira pas.
J'ai souvent le mal du pays et New York me manque chaque jour, aussi à chaque fois que nous avions un désaccord, je renvoyais l'idée que si je n'étais pas partie c'était pour et à cause de lui… et vlan! comme c'était immature de ma part!
Tout le monde fait des sacrifices dans la vie et dans ses relations et peu importe qu'ils soient petits ou grands, l'essentiel est de ne pas oublier qu'on était d'accord pour les assumer. En ce qui me concerne je ne regrette pas ma décision et ne la regretterais jamais.
Je suis d'avis qu'une relation amoureuse ou simplement avec un(e)ami(e) ou un membre de sa famille exige des efforts, c'est comme s'occuper d'une fleur…elle ne durera pas si vous ne lui apportez pas le soin nécessaire. En tout cas ce que je souhaiterais dire c'est qu'une relation entre deux personnes de pays différents avec des cultures totalement différentes est une des choses les plus difficiles qui me soit arrivée. Il y a toujours quelque chose de mieux dans ce pays ou bien les gens y font tout mieux etc…
Aussi si je peux me permettre un conseil, choisissez vos « batailles »! le dialogue joue un role clé et faites seulement les choix auxquels vous croyez et qui parlent à votre coeur et n'ayez jamais de regrets.
A l'homme de ma vie qui me rappelle constamment que l'amour est plus fort que tout et qui est toujours le plus calme de nous deux ?je déclare: "je t'aime plus que tout au monde!!"
Et vous mes ami(es)? quelque conseil de votre part à partager avec nous? des sacrifices que vous avez du faire? nous sommes tout ouïe! anonymement ou non!

?